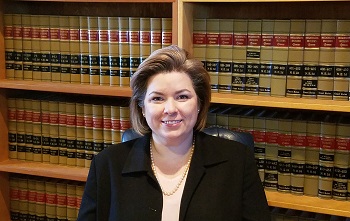 Attorney Melissa A. Pomfred
Attorney Melissa Pomfred is committed to using the law to protect the legal rights of individuals. Attorney Pomfred works closely with her clients to understand their ultimate goals and timelines in an effort to develop the appropriate legal strategy. Attorney Pomfred believes that by educating clients on the legal process and clearly communicating the progress of the case, she will be better armed to obtain the best resolution of each client's claim.
Prior to starting her own firm, Attorney Melissa Pomfred spent nine years working at legal aid in Central and Western Massachusetts fighting for the rights of employees and tenants, and honing her craft. Attorney Pomfred also spent a year working in private practice at a boutique employment firm, and a year at an insurance defense firm. Attorney Pomfred has extensive experience representing clients at the Massachusetts Commission Against Discrimination, as well as in State and Federal Courts.
Attorney Pomfred has dedicated substantial time to local and statewide legislative efforts and administrative advocacy. She was selected for and served a four-year term on the Massachusetts Bar Association's Labor and Employment Section Council. Attorney Pomfred has also worked on several statewide coalitions working to improve the legal landscape for Massachusetts workers, including a Massachusetts Bar Association Committee charged with redrafting the Massachusetts Parental Leave Guidelines for the Massachusetts Commission Against Discrimination. Attorney Pomfred is a member of the Massachusetts Employment Lawyers Association, the Massachusetts Bar Association, the Women's Bar Association of Massachusetts, the Bar Association of Norfolk County, the Middlesex County Bar Association, and the Worcester County Bar Association.
Attorney Pomfred obtained her Juris Doctorate from the University of Connecticut School of Law. She earned a Master's Degree in Human Resource Education from Boston University, and a Double-Degree in English and Psychology from the University of Massachusetts at Amherst.
DISCLAIMER: The information you obtain at this site is not, nor is it intended to be, legal advice. You should consult an attorney for advice regarding your individual situation. Pomfred Law Offices, PLLC invites you to contact the office and welcomes your calls, letters and electronic mail. Contacting this office does not create an attorney-client relationship. The use of the Internet for communication with the law office or any individual member of the law office does not establish an attorney-client relationship. Please do not send any confidential or time-sensitive information to us until such time as an attorney-client relationship has been established.